Music is a part of our daily rhythm in our Montessori inspired home. Every day the children have the opportunity to play a variety of instruments both with music playing in the background and without. A variety of music is also important. Our girls enjoy different types of music from around the world.
When a child loves to sing and do actions or dance to a song she knows, she is learning. For the past few months I have been having time every afternoon where I would go to the blog called Little Fingers that Play. It is a site that has simple songs and fingerplays for children. The children in my home absolutely loved time of day and learned the songs so quickly. They love the little video that plays while they hear the songs.
Deborah, the lovely lady behind the music, just made a CD called Simple Songs for preschool.The CD includes 19 songs and 8 chants! Deborah already knew how much I loved her site because I often sent her tweets or messages to tell her how much my girls loved her music. She decided to send me one of her CD's to see what I thought of it. Well, let's just say it was (and still is) is HUGE hit in our home.
Here is a short video clip of my girls enjoying the CD.

You can buy one HERE for $12
Or WIN one. Just leave me a comment in the comment section telling me the name of one of the songs or chants from her Little Fingers that Play blog that you think is great (there are over 50 listed in the sidebar).

Do you have a MUSIC post you would like to link-up to this weeks Montessori Moment.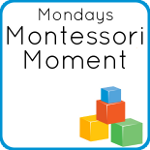 (Please be sure to display our Mondays Montessori Moment Button in your post or sidebar!)
Please put the name of the post in the link title and link directly to that post, not your blog home!