***Remember to leave a comment after entering!***
I'm not sure about all of you, but I tend to order most of my materials from the same company. Why change if you find something great, right?
I have purchased most of my materials from Perrytech Montessori.
Perrytech has been supplying quality products to the Canadian educational market for over 40 years, and has been involved in the Montessori field since 1994.
I love that Perrytech Montessori offers two different lines of Montessori equipment: the value-priced Discount Montessori Materials and the top-quality Gonzagarredi Montessori materials.
I have purchased items from both lines and have been more than satisfied! The thing I love best about Perrytech Montessori is their AMAZING customer support. They really do excel in this area!
Perrytech Montessori sent me this World Map with Flags from their Discount Montessori Materials.
This full color World map with beechwood frame is complete with flags of 36 different nations in a separate stand. Each country has a peg hole for insertion of its flag. The one side has the pictures of the flags with the Country name and the other side has the World map.
Since I have been so happy with Perrytech Montessori I want to show you some more of my favorite materials that I have purchased from them!
Everything pictured above is from the Discount Montessori Materials except for the
*Sandpaper Numbers
*Cylinder Blocks
*Brown Stair
*Sandpaper Letters
* Large Moveable Alphabet
(These items are from the top-quality Gonzagarredi Montessori materials).
I have many more materials from both lines, but I can not post all of them in just one post!
I do have to share my favorite material from the top-quality Gonzagarredi Montessori materials.
So, what do you think? Have I lost you? You will be happy if you have stuck around to read the whole post because I have a treat for you!
Perrytech Montessori is offering a $100 credit which can be used toward the purchase of any in-stock item, including taxes & complimentary shipping to one of my lucky readers!
Please spread the word about this giveaway. The more people who show interest in these types of giveaways means the more opportunities I will have to offer you giveaways like this!
Want to win this amazing giveaway? Here is what you have to do! Visit Perrytech Montessori and tell me an item you would love to have as well as one reason that you would like to win. You must include the link to the item so that I know you visited the site – I encourage you to look at items from both the top-quality Gonzagarredi Montessori materials and the value-priced Discount Montessori Materials

This giveaway is open to CAN/US. You have until June 20th, 2010 to enter the giveaway. Winner(s) will be chosen by random.org and e-mailed. The winner(s) will then have 48 hours to claim their giveaway item by e-mailing mommymomentblog@gmail.com. If the winner does not claim their prize within their 48 hour period, they forfeit their prize. *All entries received after the cutoff time will be deleted prior to choosing a winner. Disclosure: Mommy Moment was provided with a DMM World Map with Flags from Perrytech Montessori at no cost in exchange for this post.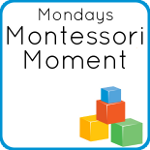 (Please be sure to display our Mondays Montessori Moment Button in your post or sidebar!)
Please put the name of the post in the link title and link directly to that post, not your blog home!


Because of YOU we are considered a Top Mommy Blog. Just click here to vote for us. You can now also click this link to help our rank on Picket Fence Blogs You can vote once a day for each link! Thank-You!