Every Sunday we call Family Fun Day. We start the day by going to church and then do something together as a family. We try as much as possible to keep Sunday as a day to spend with just our family and enjoying each other.


I decided to post about one of our family fun days as today's Montessori Moment because often times our family fun days also fit into practical life activities!


Snow White said she really wanted to go berry picking for family fun day today – since berry season is done we decided to do the next best thing…apple picking!


We went into our backyard and brought the ladder, the wheelbarrow, a big tub and some pails and got to work.
First we sorted through all the apples that had already fallen on the ground. Snow White would put the bad apples in the wheelbarrow and the good apples into the tub.
Many of the apples from the ground were rotten so we brought them to the compost bin. Snow White was happy because she said the worms would really like the apples and that it would be a special treat for them!
After we sorted through all the fallen apples we got right to picking! Snow White loved being on the ladder with Daddy picking as many apples as she could reach!

Once the apples were all picked Snow White and the neighbor boy checked the bin and took out any leaves that were still attached.


Then we loaded all the good apples into the wheelbarrow. Daddy pulled the heavy load while the kids practiced teamwork and carried the red pail of apples back together!
We had such a fun afternoon – made for a great family fun day. We now want to take the girls and go get the apples pressed to make juice! Snow White is so excited to see how it will be done! I am actually excited about it too!
We have some apple theme work on the shelves in the classroom now too – I love when practical life activities go along with what is on the shelf!
Do you have family fun days? Feel free to link up your family fun day post or your Montessori or homeschool posts from the week!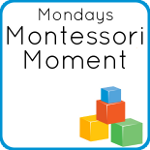 (Please be sure to display our Mondays Montessori Moment Button in your post or sidebar!)

Please put the name of the post in the link title and link directly to that post, not your blog home!
I also link-up my Montessori Moment each week to the link-up at One Hook Wonder.
Be sure to check out our current giveaways in the sidebar!
Because of YOU we are considered a Top Mommy Blog. Just click here to vote for us. Clicking on the brown screen that pops up is all you have to do!
You've also helped us be ranked #2 on Picket Fence Blogs! You can click here to vote for us & You can vote once a day! Thank-You!