by Andrea Coventry
The question I hear the most from parents is, "What does my child do all day? He says he does nothing or just plays all day!"
Rest easy, parents! Your child is actually learning! I remember one little three year-old boy in my class who seemingly did nothing but snack and food prep. But our food preparation procedures are intense. First, the child has to wash his hands, using a pitcher and basin. Next, he sets his place at a table. Then, he prepares his snack on a plate and tray. When he is finished, he has to wash and dry his dishes for the next person, as well as making sure all of the required supplies are available for the next person. This all requires much attention to detail, concentration, and independence! He gets no assistance from the teachers!
photo belongs to Jody (founder of Mommy Moment)
As for the child who seems to do nothing but "wander," chances are he is also learning a lot. I had another little boy who never seemed to engage in any work. He would wander around the classroom, looking at what the other children were doing. I didn't think he even knew any of his sounds. Then one day, when I was on the other side of the small room, I was blending sounds with another child. That little boy was able to "read" every single word!
Observation is a strong learning tool. The Montessori educator is trained to "teach little, observe much." You learn more about a child by observation than by direct teaching. Think about when you are "people-watching."
Montessori materials are designed to engage the child through manipulative action. There is rarely anything to take home, so parents have nothing tangible to see. The children are unable to articulate everything they are learning, because they are simply feeding their natural curiosity.
The next question then becomes, "What can I do at home?"
Encourage as much independence in your child as possible. Expect your child to clean up after herself. Expect her to follow a morning routine, dressing herself, brushing teeth, etc. Allow her to help around the house with cooking and cleaning tasks.

Read every day.

Follow your child's interests.

Turn off the TV and other screens.

Observe your child's classroom. Do so without making your presence known to your child, such as through the blinds of a window in a door, or in an observation room. You will see a different side to your child!

Maintain communication with your child's teacher. She will let you know if there is anything specific you should work on at home, or any causes for concern that should be addressed by another professional. Let her know if there are any major changes in the home life or the child's behavior, so you can work together to strategize.

Read your school and classroom newsletters. Not only are they full of information about your child's class and school, they will also teach you about Montessori philosophy. You will find information that you can use to elicit information from your child. "Did you try the pink tower today?"

And, simply read up on Montessori! I recommend parents read the book

Montessori From the Start: The Child at Home, from Birth to Age Three

by Paula Polk Lillard and Lynn Lillard Jessen. Take a look at what infants and toddlers can do. There is no reason your preschoolers shouldn't be expected to do the same! Other great Montessori books for parents include

How to Raise an Amazing Child the Montessori Way

by Tim Seldin, and

Montessori Madness! A Parent to Parent Argument for Montessori Education

by Trevor Eissler.
And, I will toot my own horn, briefly. I answer parent and teacher questions and share tips, videos, articles, etc., that either I have written or have discovered, or people have shared with me, regularly on my Montessori Writer Facebook page. Please visit the page and click "Like" to get regular updates. And, check out some of my recommended pages, including Mommy Moment!
Andrea Coventry is a Montessori child, now Montessori educator, with a combined total of 30 years' experience. She currently teaches ages 3-6 in a Montessori school, and writes all over the Internet. Follow her on Twitter @MontessoriWrite or @AndreaCoventry, and her Montessori blog.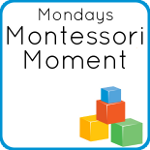 (Please be sure to display our Mondays Montessori Moment Button in your post or sidebar!)

Please put the name of the post in the link title and link directly to that post, not your blog home!
I also link-up my Montessori Moment each week to the link-up at One Hook Wonder.



Current giveaways

Pair of leggings and drool bib from Nifty Knees ends 10/18
Starter Kit reusable lunch containers from Citizenpip ends 10/11
a $25 gift card for Little One Books ends 10/11
a $50 gift card for Novica ends 10/11

Click HERE to vote for Mommy Moment on Top Mommy Blogs!
You can also vote for us on Picket Fence Blogs by clicking HERE
You can vote once a day!