DIY Play dough recipe. Don't worry! This homemade play dough recipe is very easy to make, and the fine motor skills your child can gain from a sturdy homemade dough is priceless.
If you do purchase dough instead of making it, be sure that it is firm enough for kids to get a hand work out. Some doughs are too soft and slimy to provide any strengthening.
I appreciate real clay, for the experience of using authentic art materials and the texture it provides for the children to explore.
For travel, or for children who still mouth their hands or toys- this is my favorite recipe. It's actually edible, and it smells nice. Although this dough recipe isn't specific to Montessori, I do feel that it's worth sharing with other parents and teachers: Exploring with form is a valuable work for little kids.  Also, they can do all the measuring!
You will need:
One packet Gelatin Dessert (store brand works just fine)
One cup white flour
2 tablespoons cream of tartar
2 tablespoons vegetable oil
1 cup water
1/2 cup salt
Directions:
Warm the ingredients in a saucepan over medium heat, stirring often. It takes a while for it to goop together, but once it does the mixture will start to look dull- not wet. At that time, remove from pan on a floured surface and knead.  If you find that you want a more tough dough, change the salt measurement to 3/4 cup.  Store in an air tight bag or container.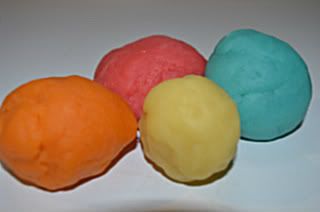 It lasts really well, I made a rainbow of colors.  Have a colorful day!
You can sign-up to get an email update each day. You can also connect with Mommy Moment on:
Jessie is a Primary Montessori Teacher and Mom to twin three year olds and a five year old.  Jessie has a Montessori blog at The Education of Ours, and can be found on Twitter.  See her other Mommy Moment posts here.